Become a Volunteer
As a volunteer, you will be an important piece of the puzzle in making Bergen a great host port, giving the guests in the Vågen harbour area and the visiting ships an experience that they will never forget.
You will be a part of a team of around 300 committed and enthusiastic people. Therefore, this is a great opportunity to make new friends, strengthen your resume and just have fun.
Note: Liaison, Crew Friend and Ferieklubben tasks are already assigned. On the other hand, there is a particular need for festival hosts and riggers.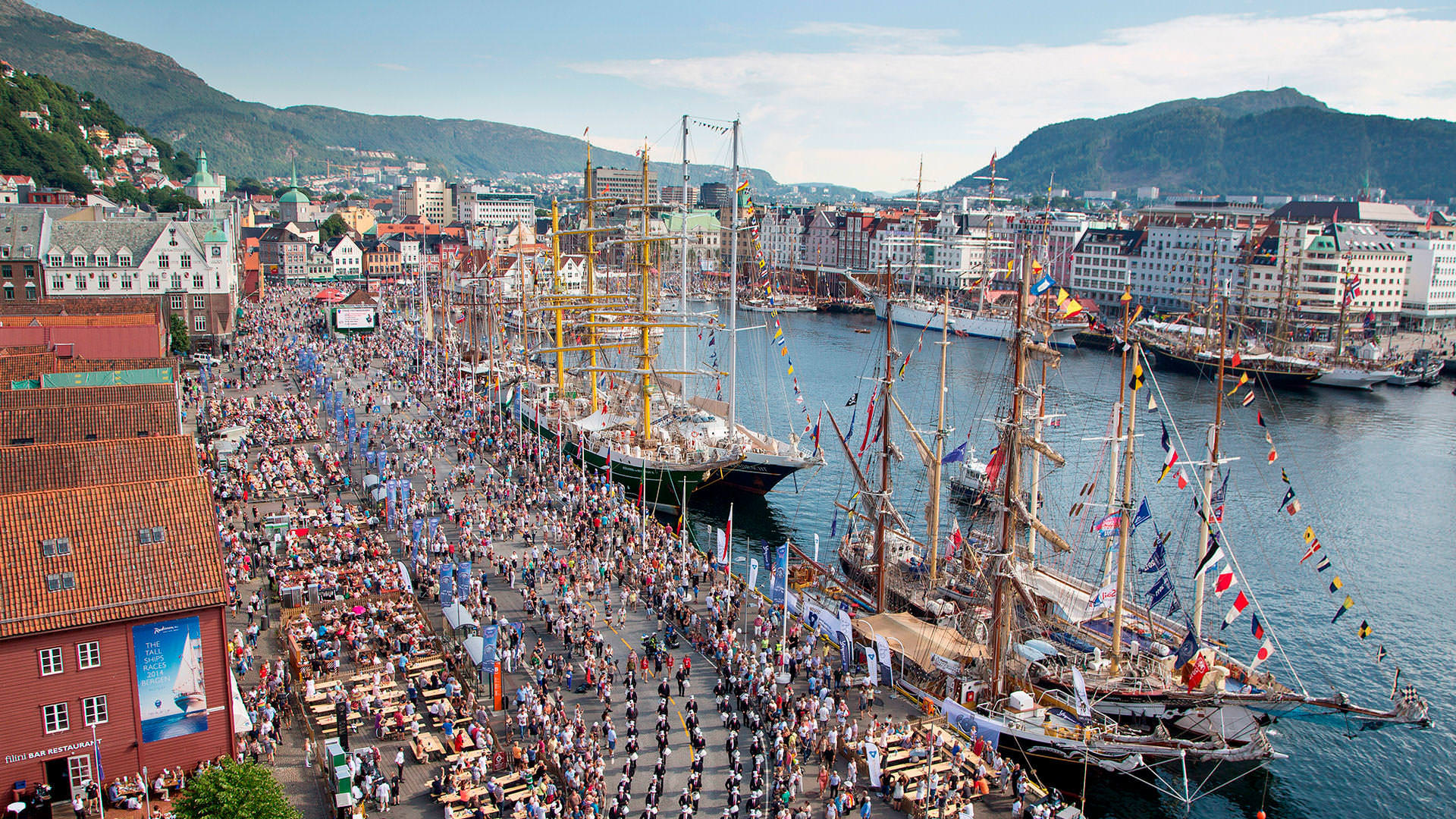 Rigging
You can also help us set up the area for concerts and events at the festival. Professional suppliers are responsible for the technical infrastructure, but we might need assistance for carrying and other smaller tasks.
Festival host
As a festival host, you will watch over the festival area, answer questions from the public and make sure that everyone has a safe and nice experience at the festival. Age requirement: 18 years old. 
Volunteer Centre (staff)
In order to coordinate the amazing 300 volunteers, we need group leaders, volunteer centre assistants and crew to ensure the smooth running of the volunteers' efforts during The Tall Ships Races.
Crew Centre
You can help crews and sail trainees at the Crew Centre, where they can relax and get all the information about different activities such as hikes to Ulriken, Fløyen and Stoltzekleiven, rowing competition in Vågen, other sports tournaments and Crew Party.
Liaison
As a liaison, you will be the key point of contact between a visiting ship and the host port. You will be available to the ship throughout the visit. Some of the main duties will be to check whether the ship requires supplies, give directions to the crew centre, facilities and other useful places in the city. The amount of work will vary from ship to ship. If you can speak the ships' native language that's a bonus! Language requirements: English/Norwegian, and ship's language if possible. Age requirement: 25 years old and over.
Crew Friend
A crew friend will assist the liaison and have a special focus on the sail trainees on board. You will remind the crew about excursions, Crew Parade, Crew party and other onshore events, and help with registration and info. As a Crew Friend, you will get to know sail trainees from all over the world. Language requirements English/Norwegian and the ship's language if possible. Age requirement: 15 – 25 years old.

Public Information
There will be several information-stands in the festival area where we will need talented people who can handle all sorts of queries in a helpful and cheerful manner. You will assist with programme information, questions about the ships and exhibitors, and be the public face of The Tall Ships Races Bergen.
Activities
Several areas in Vågen will have various activities open to the public. We will need help with the organisation and running of activities at Bradbenken, Festningskaien and Koengen.
Support
During an event such as The Tall Ships Races, there are many things to be done on an ad hoc basis. Not everything can be planned for and therefore we need flexible people who can lend a hand when needed. There are no specific tasks, but you can expect a variety of assignments and a fast pace of work.
We would love to have you on our team!